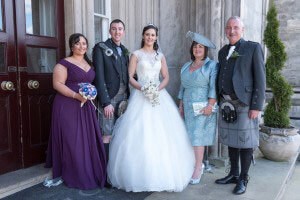 Something old, something new, something borrowed, something blue. This phrase runs through many brides' minds as they choose the various components of their wedding day outfit. One of the most difficult decisions is about what, if any, jewellery to wear.
Something old
Whether it's your grandmother's engagement ring or the necklace your husband-to-be bought you on your third date, many brides find themselves feeling pressured to include certain sentimental pieces in their wedding outfit. If it suits you and you feel comfortable wearing it, then great! If not, more creative compromises might be needed, like placing the item in a pouch which can be worn under your wedding dress, or incorporating pendants or rings into hair decorations. This allows subtle, sentimental references to be made, without it impacting on your carefully planned outfit.
Something new
Perhaps you bought a plain dress some months before the big day, and decided last minute to add significant amounts of interest with statement jewellery. Incorporating these impulse buys can be challenging, but if it makes you feel more yourself on your big day, it's worth it. Check how such purchases look with your wedding dress in advance, trying on the complete outfit at least once in a range of lights.
Something borrowed
Ill-fitting, second-hand dresses can be improved drastically with the application of well thought out accessories and jewellery. A couple of quick fixes include cinching in ill-fitting waists with delicate belts or sashes, and making sure shoulders fit perfectly by pinning any excess fabric into brooches. Borrowed jewellery can also allow you to wear beautiful pieces that you couldn't afford to buy.
Something blue
The choice to add colour through jewellery is becoming increasingly popular. Gone are the days of a tacky, baby blue garter fulfilling this part of the adage; more and more brides are choosing coloured gemstones in necklaces, earrings and even their rings, brightening up the traditional white or ivory. A word of caution though: make sure you take fabric swatches with you when choosing coloured jewellery, just as you would with soft accessories.